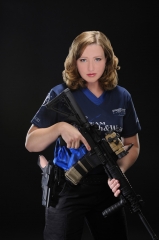 Julie Golob is one of the most accomplished professional shooters in the world, captain of Smith & Wesson's highly successful shooting team. She has won over 120 championship titles in seven different action shooting disciplines. Read more about
Julie's shooting titles and accomplishments.
In 2012 Julie authored her first book, SHOOT: Your Guide to Shooting and Competition. Reviews of SHOOT showcase the book as a valuable resource for current shooting-sports enthusiasts, but also serve as an accessible, relevant, and intelligent guide to newcomers. Learn more about SHOOT.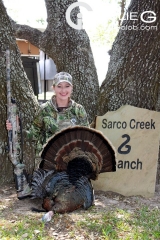 As a member of the 
Prois Hunting Apparel Pro Staff
, Julie enjoys sharing that 
passion for the outdoors
, especially with other 
women
. When she isn't shooting Julie is snapping photos, hunting and sharing 
recipes
 she has created using 
wild game
. Learn more about
Julie's passion for hunting.
The US Army Marksmanship Unit recruited Julie to shoot for their Action Shooting Team in 1995. It wasn't long before she became an unbeatable force in practical shooting and the Army named her 1999 US Army Female Athlete of the Year. Read more about Julie's Army career.