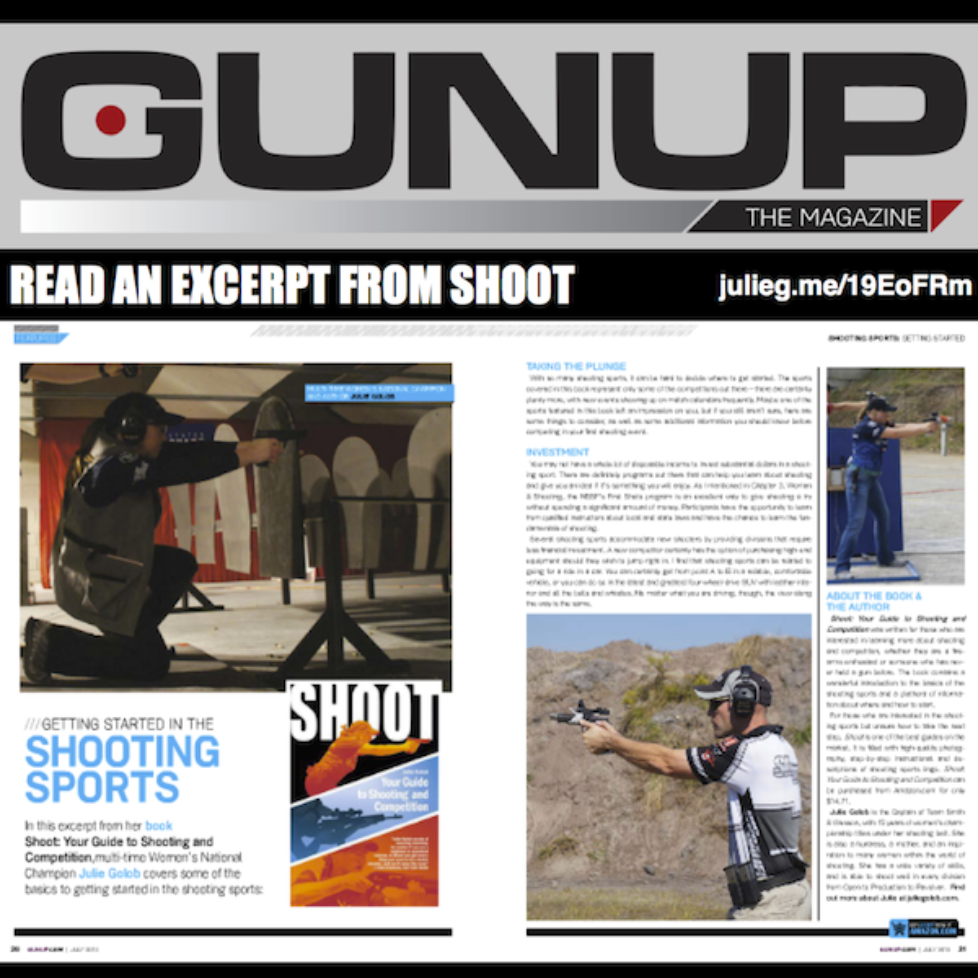 "Julie's easy-to-read style comes from her years of hands-on personal experience as an international-level competitor—it's obvious she's comfortable with shooting and teaching. Her tips, techniques, and explanations demystify those pesky questions that new, and even experienced shooters often have. SHOOT is a delight to read and a must-have addition to any shooter's library." —Roy Huntington, Editor, American Handgunner magazine
SHOOT: Your Guide to Shooting and Competition
Whether you're a firearms enthusiast, an experienced shooter, or someone who has never even held a gun, Shoot: Your Guide to Shooting and Competition will help you explore different types of firearms, understand crucial safety rules, and learn fundamental shooting skills. This book provides an introduction to a wide variety of shooting sports through detailed descriptions that relate each type of competition to everyday activities and interests. High-quality photography from actual competitions and step-by-step instructional images augment the clearly written descriptions of both basic and advanced shooting skills. Throughout the book, Julie shares beneficial tips, explains sport-specific lingo, and stresses vital safety concerns. Going beyond just a skill-building manual for those new to firearms and shooting, SHOOT addresses competition stress, goal setting, logging, and beneficial practice techniques to help all shooters, from novices to champions, excel and take their skills to the next level.
SHOOT is available in both print and ebook from these and other fine retailers…

Check out SHOOT from specific book stores both in the United States and internationally at AbeBooks.com. International order? No problem! Check out BookDepository.com to purchase SHOOT with free worldwide shipping. Visit their website for list of countries and complete details. Disclosure: Please note that some of the links above are affiliate links and I will earn a commission if you purchase through those links (at no extra cost to you). I recommend that you do your own independent research before purchasing any product or service.  OutdoorChannel.com interviews Julie about SHOOT at the 2012 NRA Annual Meeting.
SHOOT: About the Author
Author Julie Golob is one of the most accomplished professional shooters in the world, and captain of the Smith & Wesson Shooting Team. A veteran of the elite U.S. Army Marksmanship Unit (AMU), she was named both U.S. Army Female Athlete of the Year and AMU Athlete of the Year. Over her 20-year shooting career, Julie has won more than 120 championship titles in international, national, and regional competitions. In September 2011, she won USPSA Ladies Revolver National Champion, becoming the only shooter, male or female, ever to win a national championship in all 6 USPSA divisions. In October 2011, Julie won the Ladies Production Silver Medal at World Shoot XVI in Rhodes, Greece.
SHOOT: About the Publisher
Founded in 2006, Skyhorse Publishing was at #2 on the 2010 Publisher's Weekly list of the fastest-growing independent publishers in the United States. Skyhorse publishes books on many different subjects in areas including sports and outdoors, military history, how-to, self-help, true crime, antiques and collectibles, transportation and aviation, current events, and more. In July 2010, Skyhorse acquired the assets of Arcade Publishing, including some 500 titles—many from prominent authors, including Umberto Eco, Elie Wiesel, Ingmar Bergman, Octavio Paz, and others. Skyhorse's founder is publishing industry veteran Tony Lyons, former CEO of The Lyons Press. Learn more at www.skyhorsepublishing.com.