Julie Golob is…
First Six Division USPSA National Champion in History
Over 50 National, International and World titles in 7 Different Disciplines
Over 120 Championship Titles in State, Regional & International Competitions
13 – Time USPSA Ladies National Champion
7 – Time Ladies World Speed Shooting Champion
4 – Time IDPA Ladies National Champion
4 – Time NRA Bianchi Cup Military Champion
4-Time NRA Bianchi Cup Ladies Shoot Off Champion
The Only Triple Crown USPSA Ladies National Champion
US Army Female Athlete of the Year
US Army Marksmanship Unit Athlete of the Year
3 – Time S&W IDPA Winter Nationals Ladies Champion
3 – Time NRA Bianchi Cup Ladies Open Champion
3 – Time USPSA Nationals Ladies Shoot Off Champion
2 – Time International Revolver Championships Ladies Open Champion
2- Time American Handgunner Ladies Stock Champion
National Record Holder in NRA Action Pistol and USPSA
NRA Action Pistol High Master & Distinguished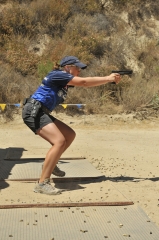 Julie Golob is one of the most accomplished professional shooters in the world and captain of the Smith & Wesson Shooting Team, helping lead her teammates to victory season after season. One of the most well-rounded competitors on the pro shooting circuit, she dominates in competition and has won titles in seven different action shooting sports.
Winning Women's Titles in
7 Different Action Shooting Sports
In 2006 she became the first and only Five Division USPSA Ladies National Champion, winning the Ladies National Title at the USPSA Limited-10, Single-Stack and Production Nationals. Accumulating all these titles in the same year, she became the first woman ever to earn a USPSA Nationals Triple Crown. In 2011 Julie won the Ladies Revolver National Title at the United States Practical Shooting Association (USPSA) Nationals, becoming the first shooter in history (male or female) to win a national title in all six USPSA divisions.
Julie began shooting with her father, Pete Goloski, at age fourteen. What started as a father/daughter weekend hobby evolved into an accomplished shooting career. Julie's talent was recognized in 1995 when the U.S. Army recruited her to shoot for the Army Action Shooting Team. Before long she became an unbeatable force, as the 1999 USPSA Limited (iron sight) and Open (race gun) Ladies Champion and Ladies World Speed Shooting Champion, unprecedented for a lady shooter in the same year. Julie was named U.S. Army Female Athlete of the Year, a prestigious honor that had never before been bestowed on an action shooter.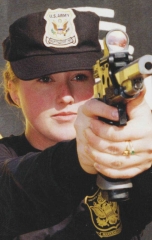 This
champion, veteran, wife
and
mother
is also an accomplished
writer
, sharing the
shooting sports
and her experiences through articles published in major
firearms publications
, outdoor and
shooting news
wires and her blog. In 2012 Skyhorse Publishing released Julie's first book, 
Shoot: Your Guide to Shooting and Competition
. The book serves as both an 
introduction to firearm
s and shooting for novices (with an emphasis on
safety
) and a primer to help experienced shooters improve their skills. Julie is passionate about the
book
and says…
"I think there is a shooting sport out there for everyone whether it's the fast-paced action shooting sports, drilling out the x-ring or busting clay targets. I love the challenge of trying new sports and divisions. It only makes me a better shooter and I hope, by sharing my passion, I help inspire someone else to give a shooting sport a try."
2012 NRA Ladies Bianchi Cup National Champion
2012 USPSA Single Stack Ladies National Champion
Click here for a detailed, chronological list of Julie's wins.