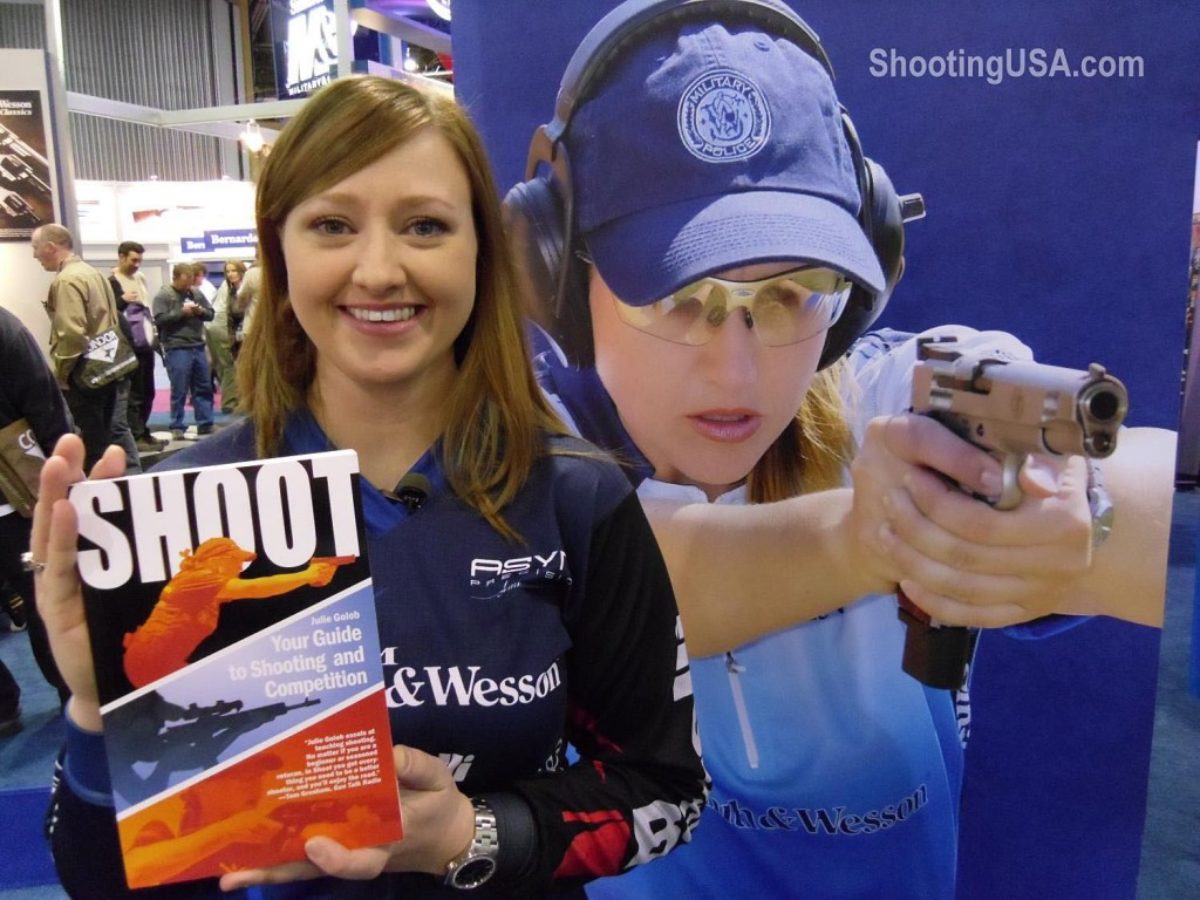 Read what they are saying about
SHOOT: Your Guide to Shooting and Competition
In Roy Huntington's "The Insider" column for the May/June issue (p. 105) Roy wrote about exciting products at the SHOT Show titled Goodies Galore – 2012 SHOT Show. SHOOT made the list! Roy said it is,  "A great first book for a new shooter or even something to add to an accomplished shooter's library…" Read the full review here.
"This is a book the NRA should have published. Hats off to Julie Golob: National Action Pistol and Three-Gun Champion, holder of numerous records, former Army Athlete of the Year and Captain of the Smith & Wesson team. Who knew she could write too?" Read the full review here. 
The National Rifle Association's Shooting Illustrated published Chip Lohman's review of SHOOT from Shooting Sports USA. Shooting Illustrated feature Stories, weekly polls and news for the modern shooter. Read the full review here. 
"I had waited for some time after the announcement to get my review copy of Julie Golob's book, "Shoot." I was not disappointed. She put in the tips I expected for seasoned shooters…but I was pleasantly surprised to see that she devoted much of her book to new shooters, and much to those who had owned guns and been shooting for a long time, but had not yet stepped into the deep and exciting pool of competitive shooting…" Read the full review here.
"Julie Golob is one of my shooting idols. It's not just because she's enjoyed great success at international and national levels as a top-flight action-pistol shooter. It's also because we share an abiding belief: Competition shooting is one of the best ways to attract new shooters and keep current shooters involved and active. Her new book, Shoot: Your Guide to Shooting and Competition, is a paean to that idea…" Read the full review here.
"One thing I really appreciate about Shoot is even though from a women's perspective, Julie writes for a wide audience. Both men and women will appreciate how well she teaches. Julie says, "The bottom line is that there is really no stereotype for the shooter or gun owner" (p. 11). I admire Julie for not only her expertise, but also her dedication to encouraging more women and youth to get into the shootings sports…" Read the full review here.
"All in all, if you are even remotely considering trying out a competition, you need this book. If you're a beginning shooter at all this book is good for you. What I'm trying to say is: buy this book. It's a great resource that should be on everyone's shelf. Even experienced shooters might find something new here." Read the full review here.
"Of those million plus people that got checked, I wonder how many really know how to handle a handgun or if they took the time to take a shooting safety course. For those, I'd say the next best bet is to pick up a copy of Julie Golob's "SHOOT – Your Guide to Shooting and Competition. Continue reading on Examiner.com

"For anyone interested in learning about competitive shooting options, several chapters are dedicated to breaking down the various types of shooting sports and divisions available to men, women and junior shooters. Julie even recommends a good starting point if budget is dictating what shooting sport you can participate in. Instruction on determining eye dominance, what is proper range etiquette, shooting on the move and drawing are also addressed. I'm really not exaggerating when I say that this book has a ton of valuable information included in it…" Read more at ITS Tactical.
"This is not a book just for women, it is a book for anyone curious about the shooting sports, and it is for everyone who has already started that long, rewarding journey into competitive shooting." Read the full review at BritinUSA.net.
"Shoot: Your Guide to Shooting and Competition by Julie Golob is an excellent book not only for shooting sports enthusiast and competition shooters. It is a great guide for any aspiring competition shooter of any skill level." Read the full review at ShootersMagazine.com
"One of the best beginner resources is the book Shoot by champion shooter and Team Smith & Wesson captain Julie Golob. Julie's approach to shoot was to create a guide for the shooting sports that would allow a new shooter to read the book, and then head out to a match and be prepared to shoot with a basic understanding of the rules and gear required." Check out the full issue from Gun Up.
Check out more reviews at GoodReads and Amazon
"America is blessed with many great shooters, but there are few true masters. Over the years Julie Golob has proved herself to be one of those few. Certainly her skills and her fearless ability to push them to their limits speak for themselves. More important perhaps is her willingness to reach out to the larger community of shooters, especially women, and give them the benefits of those skills. That is the nature of true mastery."
—Michael Bane, Host of Shooting Gallery on Outdoor Channel
"Now I've got one simple answer for all the people asking me how to get started in competition shooting: Get Julie's book. It's everything you need to know to start shooting safely, plus the tips and training that will improve your scores, from the world's most successful female pro shooter."
—Jim Scoutten, Host of Shooting USA on Outdoor Channel
"I've seen many shooters come and go over my career, and Julie stands out as a champion. When all is said and done, Julie, will be one of, if not the most winning shooters of all time. She not only has the natural talent, but the drive and discipline to put in the work, day in, day out, year after year to reach her personal goals. And on top of that, she's a wonderful person, a great ambassador, and a positive influence and role model for anyone interested in the shooting sports."
—Rob Leatham, Multi-National and World Action Shooting Champion
"As a veteran of the Smith & Wesson Shooting Team, Julie is one of the most accomplished and respected competitors in the world of shooting sports. As CEO of Smith & Wesson, I have come to respect her superior skill and her true passion and reverence for the sport. Today, people across our country are entering the world of firearms in unprecedented numbers, for purposes of both personal protection and sport shooting. In her new book Shoot Julie delivers outstanding expertise and advice, providing readers with the rare opportunity to learn from a true master."
—Michael Golden, CEO, Smith & Wesson Holding Corp.
"Having collaborated with many of our top competitive shooters and coaches, I can think of no one who is better qualified to write a current book on shooting sports than Julie Golob. As a former U.S. Army Marksmanship Unit team member, world champion, and current Smith & Wesson team captain, she has spent most of her life walking the walk as a winning competitor, trainer, and ambassador of our sport. Veteran and beginning shooters alike are in for a treat with Julie's new book Shoot"
—Chip Lohman, Managing Editor, Shooting Sports USA magazine
"Julie Golob has set the standard for women in the shooting sports. She defines excellence and is what every female athlete should strive to be."
—Maggie Reese, National Multi-Gun Champion and Top Shot Season 2 contestant on History Channel
"Julie's easy-to-read style comes from her years of hands-on personal experience as an international-level competitor—it's obvious she's comfortable with shooting and teaching. Her tips, techniques, and explanations demystify those pesky questions that new, and even experienced, shooters often have. Shoot is a delight to read and a must-have addition to any shooter's library."
—Roy Huntington, Editor, American Handgunner magazine
"As a professional shooter, I am in constant contact with many of the world's greatest competitive shooters. I have known Julie Golob for many years, on and off the range. Her marksmanship abilities, combined with her knowledge of the shooting sports, are unmatched."
—Doug Koenig, Multi-National and World Action Shooting Champion
"Shoot is a great book on today's shooting sports that will move you on your way to winning that top award. Whether you're a new shooter looking for information or a seasoned competitor, you'll find this book a must-read and a great addition to your shooting library."
—Scott Warren, FBI Hostage Rescue Team and Multi-National Shooting Champion
"Julie Golob brings years of firsthand experience as one of the top shots in the world of competitive shooting to this fun, easy-to-read overview of the gear, skills, and mindset required to improve your performance, whether you're a beginning shooter or a veteran of sanctioned competitions."
—Andrew McKean, Executive Editor, Outdoor Life magazine
"Julie's dedication to tackle and conquer as many shooting sports and disciplines as she can has made her one of the most well-rounded champion shooters of all time. This book reflects the excellence she defines."
—Kippi Leatham, Multi-National Shooting Champion and Founder of WomenofUSPSA.com and HerHandgun.com
"I've had the unique opportunity to watch Julie transform from promising contender, to national champion, to shooting icon. This book represents the next logical step in her brilliant career. I highly recommend to anyone interested in the shooting sports that they take the opportunity to benefit from the invaluable wisdom that Julie has accumulated over the past 20 years, and the experience earned in hundreds of hard-fought competitions, thousands of earnest days training, and millions of aimed shots down range. In Shoot Julie has set the standard — you are the shooter on deck!"
—Jay Christy, U.S. Army Shooting Team, and Triple Canopy Vice-President
"Anyone serious about shooting and the related competition skills will be wise to follow Julie Golob's advice and recommendations. Her skill with firearms speaks for itself, and the details in her book are easy to understand for both novice and professional."
—Ken Hackathorn, Small arms trainer and consultant