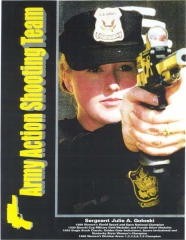 Julie Golob began her
professional shooting career
with the
US Army Marksmanship Unit (USAMU)
in 1995. She was recruited straight out of high school as a promising junior competitor. It wasn't long before Julie was winning major titles.
From Soldier to Shooting Champion
Before Julie joined the Action Shooting Section, there had been only one national title won by a member of the Action Shooting Team. That changed. Julie had a record-breaking year in 1999 winning Women's Open Titles in all the USPSA Area Championships she entered, seven out of the eight Areas. She won the women's title at the World Speed Shooting Championships (Steel Challenge) and followed that victory with back-to-back national titles at the USPSA Open and Limited National Championships, the first woman to ever do so. These wins also earned her an "unofficial" Triple Crown in action shooting sports.
With such a phenomenal shooting season in 1999, the USAMU submitted Julie for the US Army Female Athlete of the Year Award. Usually reserved for Olympic athletes, Julie was extremely honored to be nominated. She was beyond thrilled when she earned the prestigious title in a ceremony held in Washington, DC. It is the first and only time in history an action shooter has ever received the title. Julie also is the first person to meet the competition requirements for a future nomination into the USAMU Action Shooting Hall of Fame.
More than just a competitor, Julie also earned the rank of sergeant and led the Action Shooting Team in a Recruiting Command initiative, the Army Action Shooting Adventure Package (ASAP). Hitting the road, the ASAP toured the air show circuit and other recruiting events with live demonstrations using blank ammunition and laser activated targets.
Julie served nearly eight years with the USAMU in Fort Benning, GA as champion and instructor with numerous military awards and honors.