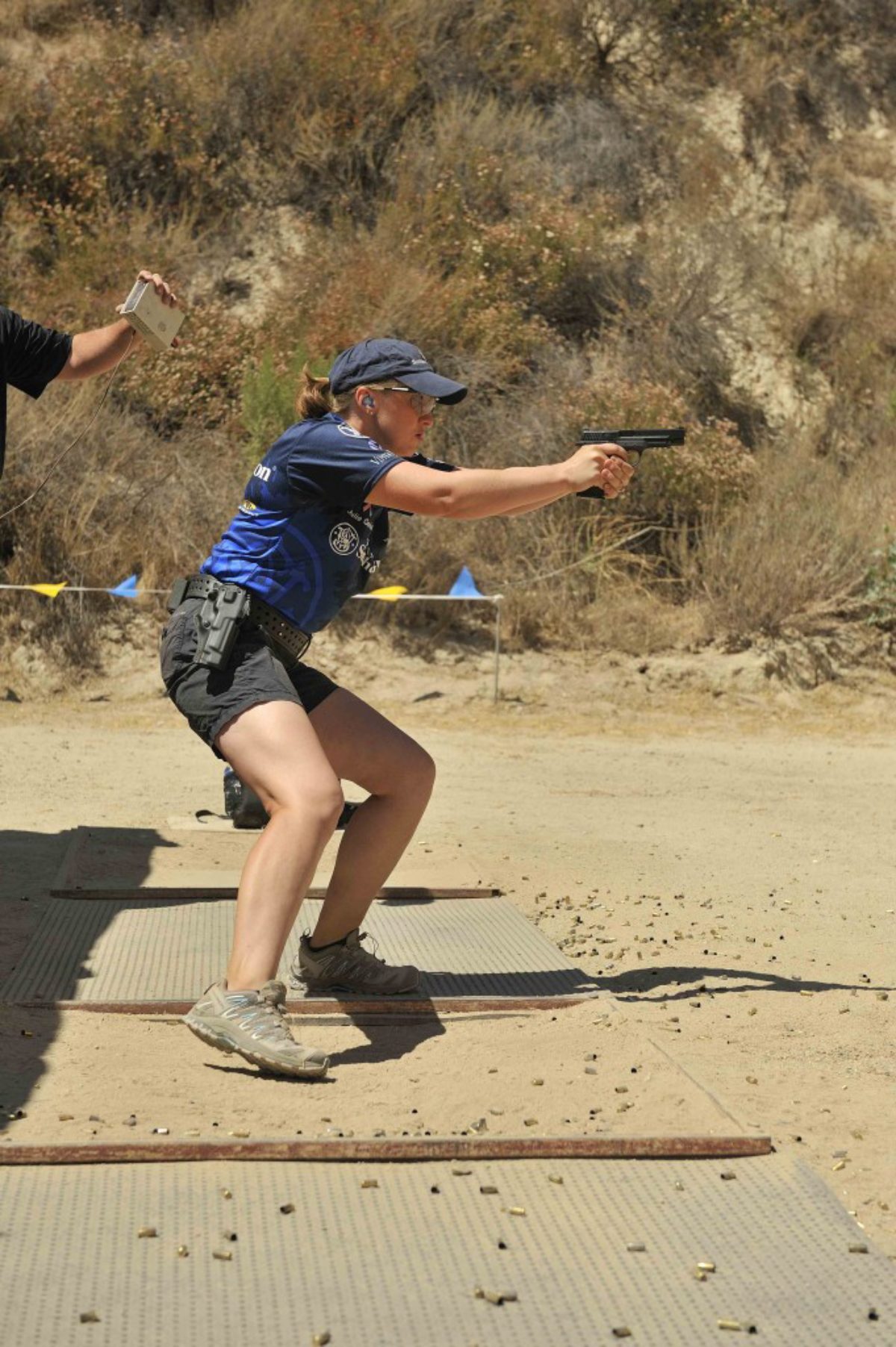 PROFESSIONAL SHOOTER
Julie Golob is living her dream, one that started when she was small. A self-proclaimed daddy's girl, Julie spent her weekends on the range and afternoons in the field hunting with her father in upstate New York. From patching targets and picking up brass to eventually working as a certified range safety officer in action shooting sports, the father/daughter shooting hobby evolved when Julie decided to take her first shots as a competitor. Shooting in her first "match" at the age of fourteen she was completely hooked and it wasn't long before this junior shooter started to turn heads.
ARMY ROOTS
Within just three years of her first competition, in 1994 Julie earned a slot to the United States Practical Shooting Association's (USPSA) National Championships. Her confident gun handling skills and accuracy caught the attention of the US Army Marksmanship Unit's (AMU) Action Pistol Coach. Impressed with Julie's shooting, she was awarded a coveted a letter of acceptance to the Army's Action Shooting Team. Julie completed basic training and Military Police school in Fort McClellan, AL in the fall of 1995 and reported for her assignment to compete and win for the Home of Champions at Fort Benning, GA.
It wasn't long before the new soldier became an unbeatable force in practical shooting.  In 1999 she claimed ladies titles at the USPSA Limited (iron sighted pistol) and Open (race gun with compensator and optics) National Championships as well as earning the Ladies World Speed Shooting Champion title. Winning all three titles in the same year was unprecedented for a lady shooter. As a result, Julie was named U.S. Army Female Athlete of the Year, a prestigious honor never before bestowed on an action shooter. Read more about the veteran.
DECORATED CHAMPION
After serving nearly 8 years with the AMU, the experienced champion took a position with Glock Sports Shooting Foundation and landed a spot on Team Glock. Dominating in the new production and service pistol divisions she proved her prowess with iron sight, striker-fired pistols before presented with another incredible opportunity. Smith & Wesson, one of the most iconic brands in the industry, offered her the role as Captain of their decorated shooting team. It proved to be a yet another winning combination.
Flying Smith & Wesson blue Julie became the first and only Five Division USPSA Ladies National Champion, winning the Ladies National Title at the USPSA Limited-10, Single-Stack and Production Nationals. Accumulating all these titles in the same year, she became the first woman ever to earn a USPSA Nationals Triple Crown. In 2011 Julie won the Ladies Revolver National Title, becoming the first shooter in history (male or female) to win a national title in all six USPSA divisions.
She also added to her win tally in NRA Action Pistol, hoisting the coveted Ladies Bianchi Cup three times. Building her established resume in International Defensive Pistol Association (IDPA) events, she has won a total of 7 national titles in defensive pistol. 7 World title wins in Steel Challenge, 3 World Shoot Off  and 2 International Revolver Championships wins are also on the lengthy list. With over 50 world and national titles in 7 different shooting disciplines, Julie has proven her talent across a variety of sports and firearm platforms. Read more about the champion.
BEYOND THE SHOOTING RANGE
AUTHOR
This veteran and decorated shooter is a loving wife, doting mother of two young girls and an accomplished writer. She enjoys sharing the shooting sports and her experiences through articles published in major firearms publications, outdoor and shooting news wires and her blog. In 2012 Skyhorse Publishing released Julie's first book, Shoot: Your Guide to Shooting and Competition. The book serves as both an introduction to firearms and shooting for novices (with an emphasis on safety) and a primer to help experienced shooters improve their skills. Julie is passionate about the book and says…
"I think there is a shooting sport out there for everyone whether it's the fast-paced action shooting sports, drilling out the x-ring or busting clay targets. I love the challenge of trying new sports and divisions. It only makes me a better shooter and I hope, by sharing my passion, I help inspire someone else to give a shooting sport a try."
HUNTER & FOODIE
Julie's bond with her father went beyond the range and into the outdoors where she learned basic survival and hunting skills. Traveling the world and competing on 6 continents as a pro shooter, this self-proclaimed foodie, is inspired by ethnic cuisine. Her #FieldtoFork recipes featuring the venison and wild game she has personally harvested can be found on OutdoorChannel.com and her blog. She has also been featured on the NRA Women's Network's Love at First Shot wild game cooking episode. Check out Julie's recipes.
MEDIA PERSONALITY & AMBASSADOR
Julie is often featured in outdoor and mainstream media. Whether she's offering a shooting tip on Shooting USA or the Shooting Gallery, taking on a trick shot for the hit show Impossible Shots, serving as the only female expert on the History Channel's Top Shot or showcasing the shooting sports on Sarah Palin's Amazing America, Julie's joy for shooting shines. Her speaking and shooting skills combined with her experience make her a top choice for brands who are looking to showcase their products to a variety of demographics.
The proud #NRAmom is dedicated to spreading the word about the importance of firearm safety. Whether it's sharing her experiences through her #takeaMOMent campaign or serving as the official spokesperson for the National Shooting Sports Foundation's Project Childsafe, Julie is a positive and articulate representative for the shooting industry.
In addition to hosting her own series of JulieG Radio podcast episodes, she also co-hosted the popular Gun Girl Radio podcast on the Firearms Radio Network. She has been featured on the following: 3-Gun Nation, AdWeek, American Handgunner, American Rifleman, American Trigger Sports Network, Benelli On Assignment, Blue Press, Breitbart.com, CNBC's Mike Hegedus – Mike on America, Crimson Trace – The Art of Survival DVD, The Daily Caller, DownRange.TV, Front Sight (USPSA), Girls Guide to Guns, The Glock In Competition (2nd Edition), Gun (Japan), Gun Digest, Guns & Gear TV, Gun Games, Guns Magazine, Gun Talk TV, History Channel, MTV, NRA News, NRAWomen.TV, Outdoor Life, OutdoorChannel.com, ShootersMagazine.com, Shooting Gallery, Shooting Illustrated, Shooting Sports USA, Shooting USA, Soldiers Magazine, Sports Illustrated, Tactical Journal (IDPA), History's Top Shot, H2's Top Guns, Washington Times, Women & Guns, WON Guns and more.
Champion, author, veteran, hunter, media personality and mom, Julie constantly strives to serve as a positive role model. She shows time and again her dedication to her role as an ambassador to the shooting sports and Second Amendment.