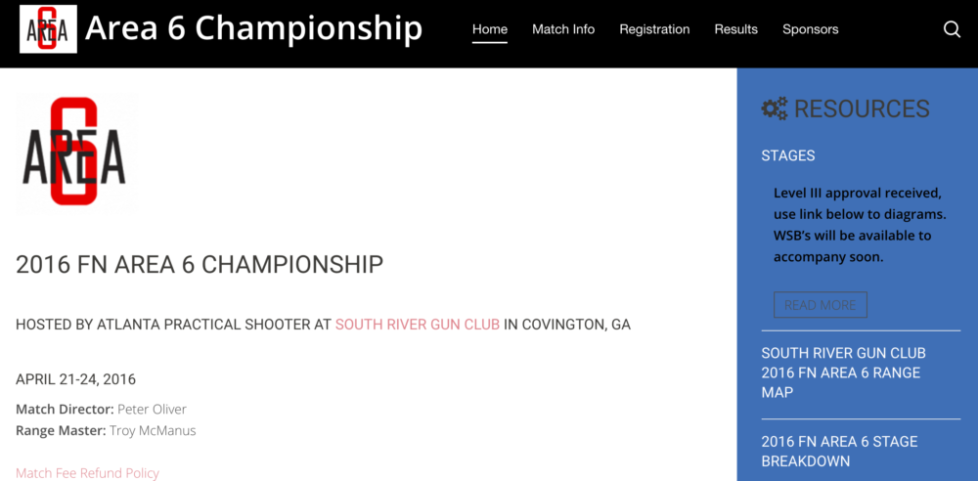 2016 Event Schedule
Please note that appearances and schedule may change without notice.
NEXT EVENT:
I will be competing on Friday, April 22. Spectators are generally welcome to watch. Be sure to bring eye and ear protection and check at the Match Registration for instructions and details. More info at a6championship.com.
---
UPCOMING:
USPSA Single Stack Nationals – May 6, PASA Park in Barry, IL
USPSA Revolver Nationals – May 8, PASA Park in Barry, IL
NRA Annual Meeting – May 20-21, Louisville, KY
Smith & Wesson – Friday 9:00-10:00am and 4:00-6:00pm, Saturday 9:00-10:00am
Women's Leadership Forum – Friday 11:00am-1:30pm
Federal Premium – Friday 2:00-4:00pm and Saturday 10:00-11:00am
NRA Flagler Cup – May 22, Kanas City, MO
NRA Bianchi Cup – May 23-30, Columbia, MO
March 4
Love at First Shot
March 16-18
Trip to Federal Premium
March 30
Shooting Sports Fantasy Camp
FEB 20
Smith & Wesson IDPA Indoor Nationals
My first match of the year! I'll be using my S&W Performance Center 9L with Federal Premium American Eagle 147 gr ammo, Warren Tactical Night Sights and Safariland rig to compete in the Enhanced Service Pistol Division. I compete on Saturday with the awards ceremony on Saturday evening. Unlike many other competitions, this event is closed to the public, but I will be posting updates via Facebook, Twitter, Instagram and Snapchat (@juliegolob) throughout the match. 
JAN 19
10-11 Federal Premium
12-1 Smith & Wesson
1-2 Safariland
2-3 Smith & Wesson
3-4 Benelli
JAN 20
10-11 Federal Premium
12-1 Smith & Wesson
1-2 Safariland
2-3 Smith & Wesson
3:30-4:30 Project Childsafe & SHOOT Book Signing
JAN 21
11-12 Federal Premium
12-1 Smith & Wesson
1-2 Safariland
2-3 Smith & Wesson
3-4 Benelli
4-6 Women's Meet & Mingle
JAN 22
11-12 Safariland
12-1 Smith & Wesson
1-2 Benelli
2-3 Smith & Wesson