Over 50 National, International & World Titles and Over 120 Victories in Major Shooting Competitions
First & Only Six Division USPSA National Champion in History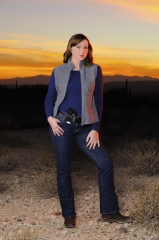 Julie Golob is one of the most accomplished professional shooters in the world. She is captain of
Smith & Wesson's
highly successful
shooting team
and a member of
Team Benelli 3-Gun
. A veteran of the
U.S. Army Marksmanship Unit
(USAMU), she was named both
U.S. Army Female Athlete of the Year
and USAMU Athlete of the Year. She has won over 120 championship titles in seven different action shooting disciplines. (For a complete list of titles please visit the
champion
 page.)
As a member of the Prois Hunting Apparel Pro Staff, Julie enjoys sharing her passion for the outdoors. This wife, mother and veteran enjoys photography, writing, hunting, cooking (especially wild game), and sharing her love of the shooting sports.
In 2012 Julie authored her first book, Shoot: Your Guide to Shooting and Competition. Reviews of Shoot showcase the book as a valuable resource for current shooting sports enthusiasts, but also serve as an accessible, relevant, and intelligent guide to newcomers. In addition to authoring Shoot, Julie has also written features for American Handgunner, Front Sight (USPSA), IDPA Tactical Journal, Women's Outdoor Wire, The Outdoor Wire, The Shooting Wire and Women's Outdoor News.
Julie is sought out for her expertise. She is the first female shooting expert to appear on History Channel's Top Shot and Top Guns. Julie is also an outdoor television personality, blogger and she records a monthly podcast that offers shooting tips and insight on the world of shooting sports and competition.
For Julie's latest appearances in the media follow Julie In Print & On the Air.
Recent Press Releases:
More links located in the Press Release Archive
Julie has been featured in/on: 3-Gun Nation, AdWeek, American Handgunner, American Rifleman, American Trigger Sports Network, Benelli On Assignment, Blue Press, CNBC's Mike Hegedus – Mike on America, Crimson Trace – The Art of Survival DVD, The Daily Caller, DownRange.TV, Front Sight (USPSA), Girls Guide to Guns, The Glock In Competition (2nd Edition), Gun (Japan), Gun Digest, Guns & Gear TV, Gun Games, Guns Magazine, Gun Talk TV, History Channel, MTV, NRA News, NRAWomen.TV, Outdoor Life, OutdoorChannel.com, ShootersMagazine.com, Shooting Gallery, Shooting Illustrated, Shooting Sports USA, Shooting USA, Soldiers Magazine, Sports Illustrated, Tactical Journal (IDPA), History's Top Shot, H2's Top Guns, Washington Times, Women & Guns, WON Guns and more.